Into Alaska: The road trip without roads
March 15, 2019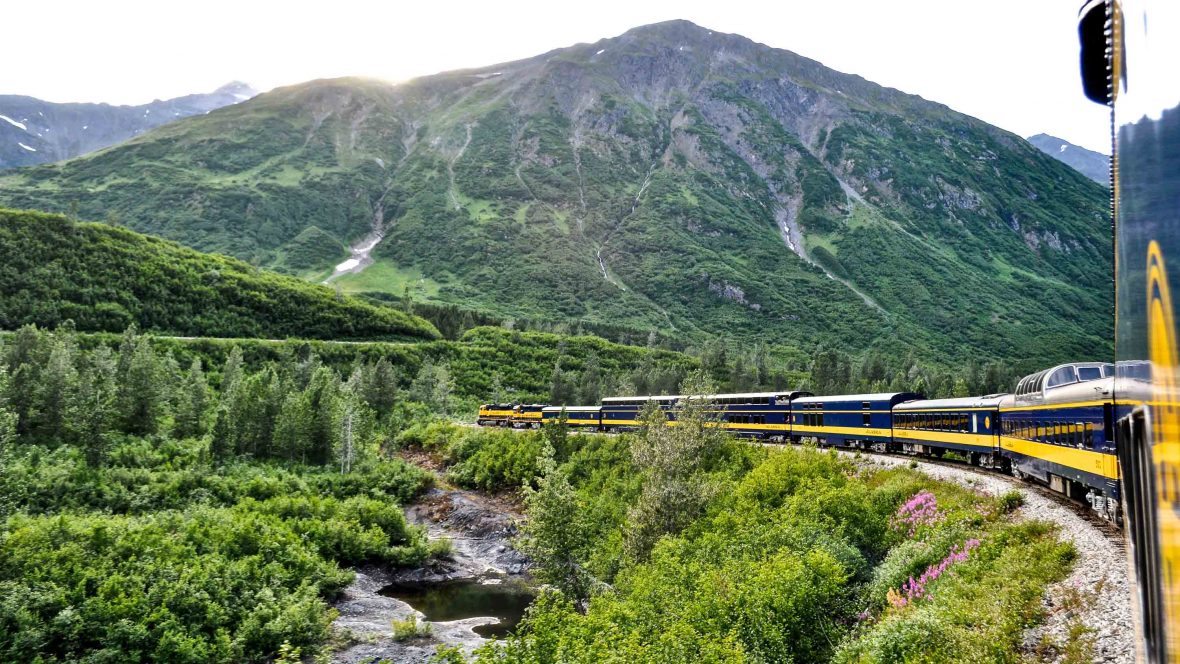 Jon Holmes March 15, 2019
Share this article
Riding the railroad into Alaska's interior takes Jon Holmes on a journey deep into America's last frontier, a land of earthquakes, bears, pepper spray, and new railway companions.
Alaska. Out here, you'll find 700,000 square miles of beauty to contend with. It's the perfect destination, on paper, for a road trip of epic proportions; the kind you spent long nights—and even longer school days—dreaming about as a teenager. But there's one teeny, tiny issue: In some parts, there are no roads.
You might think traveling through a country without tarmac could be regarded as problematic and Juneau, the capital, does little to quash those doubts. It has no roads in or out: You fly, get on a boat or wait until winter when vast rivers freeze solid and become impromptu motorways for snowmobiles.
But if you really want to see Alaska, you do as I'm doing, and you take the Alaska Railroad—the mighty metal artery around which the country was built, as it snakes from the south coast up into an immense interior of lakes, forests and blue-white glaciers shuffling their lumpy, creaking masses down to an icy sea.
Roads? Where we're going, we don't need roads.
My first stop is Anchorage. Alaska's largest city was built where the railroaders pitched their camp, putting down their 'anchor' here in 1914, while pushing a route upwards into the wild. By accident, they built it over a fault line, something which becomes alarmingly apparent at 6am on my first morning when a magnitude 5.3 quake arrives, swaying my hotel room enough to knock some lamps over, throw pictures off the wall and make me leap out of bed (naked). I try to remember what an out-of-towner must do when faced with an earthquake—which is to realize you have no idea what to do when faced with an earthquake.
RELATED: Sunset Limited: How the nation's oldest railroad still brings people together
Am I supposed to get in the bath, or get under a table in the nude until it stops? Irrelevant, because suddenly it stops and it's eerily ethereal, like Enya tunelessly singing into a vacuum as the clatter of modern life returns. The lights come back on, the air conditioning hums, and I pack my bag and go to see if my train to the north is still alive.
To my surprise, I thoroughly enjoy it and what I now know about spongy tundra and lichen symbiosis you wouldn't believe, because the guides are expert, engaging and passionate. And, crucially, armed against bears.
RELATED: Why winter is the best time to tackle Russia's Trans-Siberian Railway
We have lunch by a creek, looked at a spruce and then, because of the local grizzlies, there are instructions on what to do if one attacks. Shotguns are a last resort apparently and Lynx Africa, I was told in no uncertain terms, is absolutely no defence. But, as I only see one bear and he or she is far away by a lake, who's to say it didn't work?
—
Source of this (above) article: https://adventure.com/alaska-railroad-usa/