House music in Pakistan? Meet the innovators cranking up the volume
March 13, 2019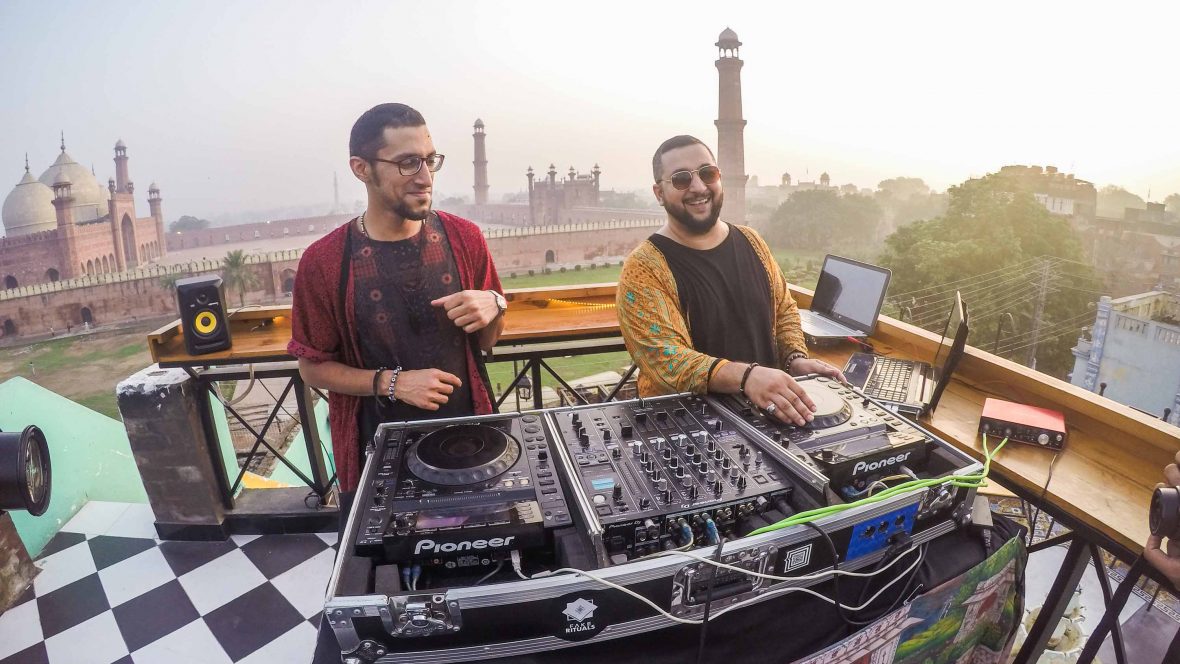 James Shackell March 13, 2019
Share this article
In the '90s, Pakistan's music and nightlife scene was flourishing. Then came terrorism, and an end to all that. But now, spurred on by a desire to bring Pakistan back to the world, artists like house duo Fake Shamans are turning the volume up again.  
Nice evening in the Punjab, Pakistan. The sun's going down behind the spires of Badshahi Mosque, settling into a hazy purple twilight, and on the roof of an ice cream parlour in downtown Lahore, two guys are installing a turntable and complicated mixing gear. Down on the streets, the city's red-light district, Heera Mandi, is starting to flicker.
Back in the 1500s, this was the home of the tawaif courtesans, high priestesses of music and entertainment, basically the geishas of the Mughal empire. It's a good backdrop for a new kind of spectacle: The open-air Pakistani house rave.
The two guys fiddling with cables are electronica DJs Omair Anjum and Mohammed 'Mosh' Shah, better known by their stage name, Fake Shamans.
Mosh is tall and aquiline, with the clean-cut, rectangular specs of an IT professional. Omair is stockier, hidden behind gold-rimmed Ray Bans. Both are wearing tribal-esque robes over loose-fitting t-shirts. Take away the turntables and they could be a couple of freelance graphic designers, or possibly new-age mindfulness gurus. "I won't lie, it's like living a dream right now," says Omair over the phone after the fact. "A few years back, we never thought we'd get to this point."
RELATED: Inside Iraq's surprising nightlife boom 
What makes Fake Shamans' performances special isn't just the crowd, who are mostly young, progressive, music-savvy millennials; it's the spectacle. Live performances in Pakistan are complicated. Technically, live music isn't illegal in Lahore, but 20-odd years of terror attacks and conservative government have created tension between musicians and authorities.
Most raves and house performances take place in subterranean clubs, and it's not uncommon for local police to shut down anything deemed improper or culturally risqué. For some, even mixing genders in a public place would be considered taboo. Pakistan's growing youth population (64 per cent of the country is under 30) doesn't get to see this sort of thing very often.
Technology helped jump-start the change. Cassettes and CDs meant that music was suddenly cheap and portable. Record companies like EMI Pakistan and Sound Master began signing local artists, and the new state-run Pakistan Television (PTV) broadcast dedicated music shows for the first time. Omair says he and Mosh, like most Pakistanis of their generation, grew up in a proper Golden Age. Big-name acts like Junoon, Awaz, Hadiqa Kiani, Shehzad Roy and Nusrat Fateh Ali Khan were blasting from every car window.
There wasn't a Friday night when the bars of Lahore weren't thumping to some upcoming grassroots hip-hop act. Even after General Pervez Musharraf's coup in 1999, Pakistani music continued to flourish as a sort of quasi-nationalist symbol. It was complicated and politicized, sure, but it was still brazenly, chest-thumpingly Pakistani.
RELATED: Tracing Greece's youth 'hippie trail' 
A number of domestic terrorist incidents and a growing conservative movement pretty much suffocated the live music scene for the next dozen years or so. Today's republican government is democratic and reasonably progressive, but something like house music is still considered iffy at best. Omair says it's only in recent years, with the advent of online streaming services, that young Pakistanis are beginning to experiment and find their sound again.
"I was chatting to a friend of mine in Germany and telling them all the hassles we have to go through in Pakistan," he says, "and I asked him how it feels to be an artist in Europe. He said being a DJ in Germany is like being an actor in Hollywood—there's a lot of competition. For us, it's the opposite."
"We try to diversify our style," Omair says. "We have a pretty broad sound, so we don't restrict ourselves to one particular genre. We like creating a whole new thing and improvising. It's hard to put words around it. We have a lot of tribal shenanigans in our sound, a lot of those Eastern rhythms. Pakistan and India have a rich background when it comes to music, so what we do is mix that sound with house music to create something new."
Like most upcoming Pakistani artists, the duo get most of their play through YouTube or Soundcloud, which are more accessible than Spotify (the band does maintain a Spotify presence, although Omair admits most Pakistani acts don't bother). But it's the live acts that get Fake Shamans blood pumping—every new venue is like chipping away at Pakistan's conservative cultural bedrock, bringing house music into new spaces, exposing it to new ears.
"I was in an Indian restaurant the other day and they were playing house music," Omair says. "It was great! There's so much variation and diversity in house. I want this country to become the Pakistan of the 1990s again. I remember going out all the time, listening to our favorite bands, and then terrorism and the whole political situation pushed that back a LOT. Now young people in Pakistan are depressed and struggling. Everyone's hoping for a change. It's sad really—the rest of the world is missing out on Pakistan and what it could become. We want to change that."
–––
—
Source of this (above) article: https://adventure.com/house-music-in-pakistan-meet-the-innovators-cranking-up-the-volume/