WATCH: SSN in 60 seconds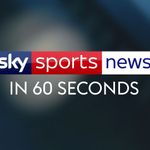 Sky Sports News in 60 Seconds: All the latest headlines
Last Updated: 14/09/18 10:23pm
Catch up on all the big headlines from Sky Sports News in our latest video bulletin.
SSN in 60 Seconds brings you the major stories and breaking news in just one minute.
West Brom come from behind to draw 1-1 with Birmingham in the Championship.
Kimi Raikkonen was fastest in second practice for Sunday's Singapore Grand Prix, but it was a day to forget for team-mate Sebastian Vettel.
Great Britain and Uzbekistan are level at 1-1 after the first day of their Davis Cup tie.
And Simon Yates remains on the verge of his first Grand Tour title.
Hit play on the video at the top of the screen now for our quickfire round-up…
—
Source of this (above) article: https://www.skysports.com/football/news/11095/11498071/sky-sports-news-in-60-seconds-all-the-latest-headlines