Harsh lessons in Gerrard's first test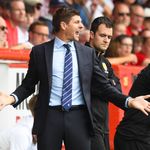 Harsh lessons in Steven Gerrard's first real test as Rangers manager as Aberdeen earn late point
By Ron Walker
Last Updated: 05/08/18 4:59pm
Having looked destined for victory, two late dropped points on his league bow was a harsh lesson for Rangers boss Steven Gerrard.
The Gers have impressed during pre-season, conceding only twice in seven games including four Europa League qualifying ties, but an almost perfect away performance in their first real test at Aberdeen, last season's Scottish Premiership runners-up, meant nothing when Bruce Anderson slotted in an equaliser in the third minute of injury time when left totally unmarked.
Last-gasp goal thwarts Gerrard's Gers
It was incredibly harsh on Gerrard, and Rangers, who had played from the 12th minute with 10 men because of Alfredo Morelos' moment of madness when he kicked out at Scott McKenna and was given his marching orders, but he resisted making a defensive substitution to see the game out against an increasingly desperate Dons side and was made to pay late on.
Gerrard knows very well from personal experience how unforgiving professional football can be, arguably more than most when you look back at his playing career, namely his infamous slip against Chelsea in 2014, and header that allowed Luis Suarez in against Uruguay at the World Cup later the same year.
The difference now is that no matter how many chants were rewritten to accommodate Gerrard's misfortune as a player, both Liverpool and England carried the can collectively for those mistakes – which will not be the case if things do not work out at Ibrox.
He does not need telling how different the world of management is, and with the money Rangers have spent this summer progress is inevitably crucial and it will be him who is in the firing line if they fail to bridge some of the 12-point gap to Celtic from last season.
Managers are always emotional beings after late setbacks, but Gerrard was right when he said following the match his team played even better with 10 men than they had with 11, because for so much of the game there had looked like being only one winner.
Maybe he was too confident of seeing out victory, considering Aberdeen did not manage a single shot on target before injury-time, but he had a substitute left to use and options on the bench to shore up his defence in the final minutes, when it became obvious the Dons would throw the kitchen sink at them.
That was summed up perfectly by the timing of the hosts' two best chances; both came in the final six minutes, the first headed wide by Lewis Ferguson and made by defender Michael Devlin, and the second finished by Anderson in injury time, again set up by Devlin, who had long-since abandoned his defensive duties behind.
Gerrard can be generally positive from his first taste of domestic football. His players could not have looked more committed and it takes something impressive to make a talented Aberdeen side look so mediocre at the best of times, let alone when you have 10 men.
Refining those finer touches will take time, as he learns when to take a gamble and when to play it safe, see it out and hold on – but judging by the quality of his side's first Premiership performance, he's learned plenty already.
—
Source of this (above) article: http://www.skysports.com/football/news/11095/11462334/harsh-lessons-in-steven-gerrards-first-real-test-as-rangers-manager-as-aberdeen-earn-late-point