Couple tumbles into science podcast for kids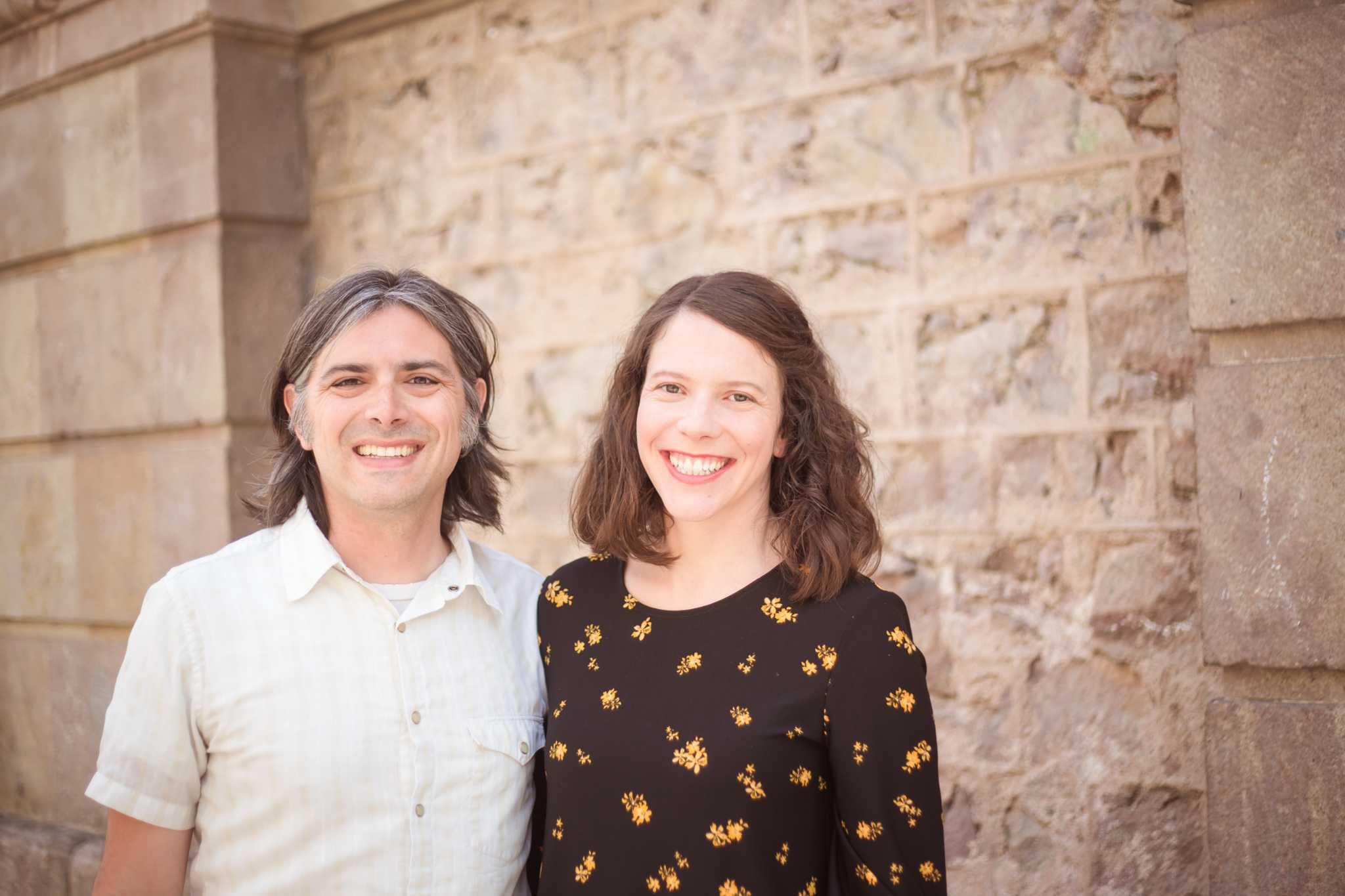 window._taboola = window._taboola || [];
_taboola.push({
mode: 'thumbnails-c',
container: 'taboola-interstitial-gallery-thumbnails-3',
placement: 'Interstitial Gallery Thumbnails 3',
target_type: 'mix'
});
_taboola.push({flush: true});

The husband-and-wife team of Marshall Escamilla and Linda Patterson are the creators and co-hosts of "Tumble," a science podcast for kids. They will be making a free appearance at Northshire Bookstore in Saratoga Springs at 2 p.m. Wednesday, Aug. 8. (Provided photo.)
The husband-and-wife team of Marshall Escamilla and Linda Patterson are the creators and co-hosts of "Tumble," a science podcast for kids. They will be making a free appearance at Northshire Bookstore in
Photo: Mish Hamilton

The logo for "Tumble." The husband-and-wife team of Marshall Escamilla and Linda Patterson, who created and co-host "Tumble," a science podcast for kids, will be making a free appearance at Northshire Bookstore in Saratoga Springs at 2 p.m. Wednesday, Aug. 8. (Provided photo.)
The logo for "Tumble." The husband-and-wife team of Marshall Escamilla and Linda Patterson, who created and co-host "Tumble," a science podcast for kids, will be making a free appearance at Northshire Bookstore
Couple tumbles into science podcast for kids
Saratoga Springs
One episode is titled "How to Build a Robotic Eel." Another, "The Sign of the Ninja Virus."
Three are about poop, human and dinosaur.
Such are the eclectic explorations of "Tumble," a science podcast for kids (and adults) that was created and is co-hosted by science journalist and Clifton Park native Lindsay Patterson and her husband, Marshall Escamilla, a music teacher. Now with 50,000 subscribers, "Tumble" produces a new episode every other week, with each getting about 130,000 downloads within 30 days of being posted, according to the creators.
Patterson's and Escamilla's approach is to tell the story of scientific discovery, of how we have come to know what we know: what questions were asked, who asked them, and how did the scientists interviewed go about making their discoveries? Patterson and Escamilla will bring a live version of their show, featuring questions, stories, songs and more, to Northshire Bookstore in Saratoga for a free appearance Tuesday afternoon.
"Tumble" was born four years and about 70 episodes ago, inspired by Patterson's job with "Earth & Sky," a show broadcast widely on public radio from 1991 to 2013 that featured 60- to 90-second daily segments focusing on science. Although not trained in science, Patterson happened into the job, and she found her future path while working on a series of "Earth & Sky" episodes that addressed questions sent in by young listeners.
"Not having a science background, writing for kids was a level I just loved to write at, and we found that's the level most adults prefer to be communicated with when it comes to science," said Patterson, chatting on the phone last week from her parents' home in Clifton Park. She, Escamilla and their son moved to Barcelona about a year ago from Austin, Texas, to pursue a dream of living abroad and finding different stories for "Tumble." They're back stateside this month for a visit to their respective hometowns to promote the podcast. After Saratoga, it's off to the Austin area for three appearances including a big theater show called "The Back-to-School Science Splash Jam!"
"I hated science in school. It wasn't until I actually interviewed a scientist … that I discovered what science was all about — an ongoing, human process of continual discovery," Patterson said in an earlier email, while she was still in Spain.
More

Information

If you go

Tumble Live Show

What: Lindsay Patterson and Marshall Escamilla, co-hosts of the "Tumble" science podcast, will answer questions; share games, songs and mysteries; and talk about what science is all about.

When: 2 p.,m. Wednesday

Where: Northshire Bookstore, 424 Broadway Saratoga Springs

Admission: Free

Info: northshire.com/event/tumble-science or sciencepodcastforkids.com
She continued, "I realized that most people are like me, and think that if they aren't 'good' at science, it's not for them. But as I interviewed people across all fields of science, I became convinced that understanding how science works … is essential to being an informed citizen."
"Tumble" episodes generally last in the 15-minute range. The goal, Patterson said, is for listeners to be able to hear an entire episode during a drive to or from school or on an errand. "We have heard about podcast 'driveway' moments," Patterson said, with parents and kids staying in the car until the episode is over, "and listeners have told us they try not to start one if the drive is too short to be able to hear the whole thing."
One online review complained good-naturedly that the podcast was so intellectually engaging that a young listener was unable to fall asleep after hearing episodes. Patterson reports listeners as young as age 3, including one who dictated a question to her mother that she wanted answered on the show: How did big dinosaurs sleep: standing like horses or lying down like people? According to Patterson, the letter referenced an immense dinosaur — 122 feet long, 20 feet high at the shoulder, 76 tons or as heavy as a space shuttle, according to estimates based on bones found in Argentina in recent years — when it said, "It's crazy to think of a Patagotitan sleeping on its side." Again, this was from a 3-year-old.
"A podcast is such a natural format for children," Patterson said. "TV is very passive. Research has shown that kids learn more vocabulary and become more creative when they listen to something in an audio format. You engage with content so much more deeply when you're hearing it and your brain is filling in all the gaps. It's an active way to learn."
sbarnes@timesunion.com • 518-454-5489
—
Source of this (above) article: https://www.timesunion.com/entertainment/article/Couple-tumbles-into-science-podcast-for-kids-13133763.php