Big business is giving up its fight against a higher minimum wage
April 17, 2019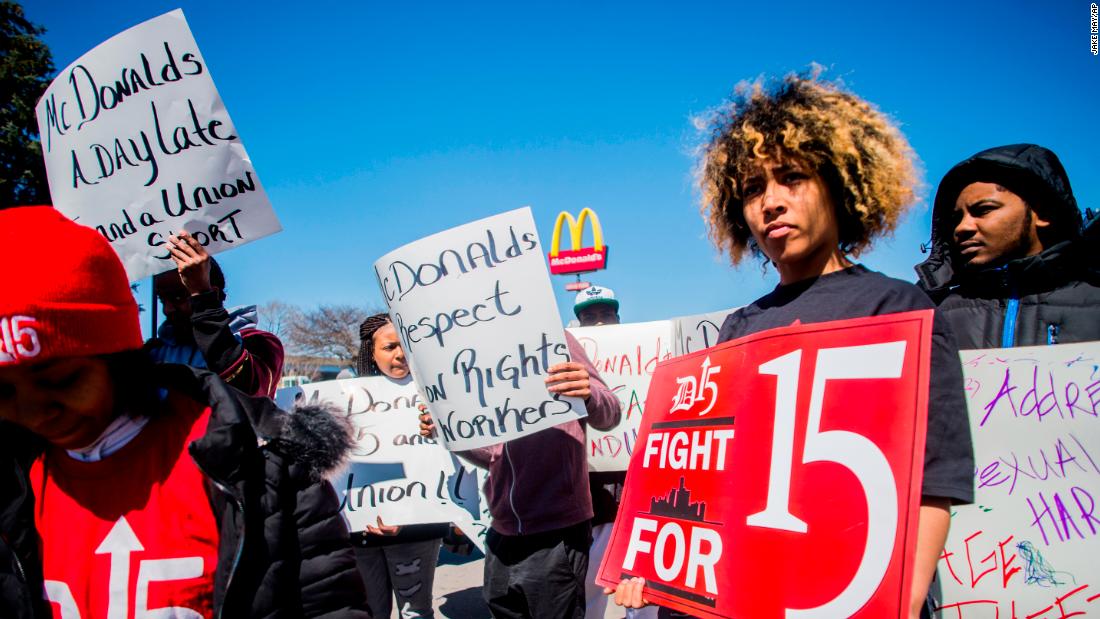 Last month, McDonalds — the most recognizable name in America's lowest-paying industry — announced it would
lobby against minimum wage hikes. A few months before that, Amazon
that it would fully meet activists' demands for a $15-per-hour baseline and that it would throw its considerable lobbying weight behind an increase in the federal floor. Then, just last week, Bank of America
, setting its own minimum at $20.
As a bill that would
raise the minimum wage to $15 by 2024
nationwide awaits a vote on the House floor with 205 Democratic co-sponsors, life in the opposition is
for the National Federation of Independent Business, the nation's largest advocacy group for small companies.
For large companies, opposing a hike comes along with bad publicity, which lately just doesn't seem to be worth it for corporate America — especially for those with a consumer-facing brand reputation to maintain.
"A number of our members that have substantial retail operations are very concerned about image," said Roger King, senior labor and employment counsel with the HR Policy Association, a trade group of large employers. "They're very concerned about marketability of their product, and they don't want to be a poster child for poor working conditions."
And if a big business has to pay higher wages, it helps them if smaller competitors are forced to do the same. "You level the playing field," King said.
Amazon has also made its presence felt on Capitol Hill, holding meetings with lawmakers in support of the Raise the Wage Act. It's perhaps a prudent choice, since for the biggest and most profitable businesses, it's becoming clear that $15 isn't enough.
"She's short $567, what would you suggest she do?" asked Porter, a Democrat.
"I don't know, I'd have to think about that," Dimon replied.
As local minimum wage legislation has cropped up around the country, franchisees have demanded that they be treated like small businesses, rather than large businesses that are sometimes required to raise their wages on an accelerated timeline. They're now pushing Congress to pre-empt such differential treatment in the future.
"We know where the conversation is going, we also know where the economy is going," said Matt Haller, senior vice president for government relations and public affairs at the International Franchise Association. "I would say our position has shifted more toward making sure that businesses are treated equally."
"$15 is not far left. It's not radical. It's not excessive. It's the bare minimum of what an individual in the lowest cost-of-living parts of this country is going to need in 2024," said Judy Conti, director of government affairs for the left-leaning National Employment Law Project. "Part of the problem is that the Chamber and the NFIB and the National Restaurant Association have screamed for so hard and so long about the fictitious job loss that comes from the minimum wage that people continue to believe it."
—
Source of this (above) article: https://www.cnn.com/2019/04/17/economy/minimum-wage-raise/index.html